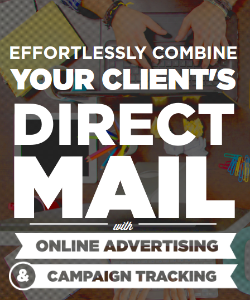 Direct Mail 2.0 With LeadMatch
---
Below is a nice overview video of how it works
We don't Print. We don't Mail. We Integrate Print, Mail, Facebook, Instagram, Website Visitors, and Phone Calls with Informed Delivery ® so you can accurately target and track the results.
With Informed Delivery® integration, your client's mailing piece will be enhanced with a clickable full color ad within the greyscale email preview sent by the USPS every morning. Your client will also be able to track where Informed Delivery® emails have been opened geographically!  Be one of the pioneers in the industry to offer this service and give your clients the opportunity of a lifetime!

LeadMatch

Receive a list of who came to your website from the mailing list and what actions they took. With LEADMATCH, you can mail to unique visitors who visited your website, even if they weren't on the mailing list! Finally, true attribution for a direct mail campaign!
What is LEADMatch?
You never knew who came to your website from your mailing… UNTIL NOW.
DirectMail2.0 now has an advanced measurement solution able to track and measure the effectiveness of direct mail. In addition, LEADMatch gives you the opportunity to mail to website visitors who came not as result of your mailing.
Wouldn't you like to know who visited your website as a result of your mailing?
DirectMail2.0 now has an advanced measurement solution able to track and measure the effectiveness of all media including direct mail.
How LEADMatch works
One pixel to measure all! Our pixel enables data collection and delivery of postal addresses when placed on a webpage.
With LEADMatch you can:

GET A LIST of who came to your website from the mailing list and what actions they took.
MAIL TO UNIQUE VISITORS who came to your website who weren't on your mailing list.
NEVER GUESS AGAIN how effective your direct mail campaign was.
Call Tracking
The call tracking feature of DirectMail2.0 allows clients to track exactly how many calls they receive from each campaign and allows them to listen to recordings of their phone calls to ensure their reception and sales process is running smoothly. Calls are directed to the client's business phone but recorded and tracked through call tracking software. This feature also helps printers and ad agencies for clients who do not do their own accurate tracking.
Mail Tracking
The mail tracking feature shows clients the predicted date for mail delivery, as well as the actual delivery dates. This gives clients the ability to line up additional staff as needed. It also gives mail houses and marketing companies a simple tool to prove mail was delivered as promised.
Online Follow-up
Your clients get the added benefit of our partnership with the Google network. When prospects receive their mail piece and go to the client's website, but do not take action like filling out a web form or purchasing online, they are captured through our online follow-up system. Then when the prospect leaves the client's website and browses elsewhere, the client's ads show up directing them back to the client's website. Ads are shown through the Google network on over a million websites, including CNN.com and Dictionary.com
Social Media Follow-up
DIRECTMAIL2.0 has gone SOCIAL! Take your online follow up even further with our new addition of social media follow up through Facebook! Keep your business in front of your prospects everywhere they go! Facebook has just reached its record high 1.65 billion monthly active users and this number is climbing every day. This new Social Media Follow-Up feature ensures that you truly achieve maximum exposure to those people interested in your product or service.
Social Match
SocialMatch is your mailing list's new best friend. We can now take your mailing list and MATCH them with their Facebook and Instagram user accounts. Now your target market will see your ad on their Facebook & Instagram newsfeed BEFORE the mail piece even reaches mailboxes and without them having to even visit your website. On average, we can match 40-60% of all mailing lists—including B2B! (Business to Business)
Unlimited Mail Tracking
Our newest service allows our partners to use this standalone feature to track and show mail delivery for ALL their clients for one fixed monthly fee.  The size or frequency of the mailing is irrelevant as the pricing is a fixed low monthly rate.  With Unlimited Mail Tracking you can offer all your clients mail tracking immediately with little to no ramp up time and no obligation to pay for or use the other services. This is a great way to introduce our partners' customers to the benefits of integrating a mailing campaign with an online platform.
Download Quick Read Booklet
---
Share this Product